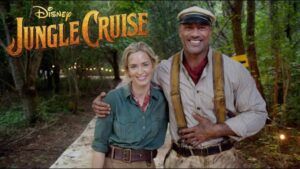 Saturday, July 24th 2021, will be a big day at Disneyland as Disney's Jungle Cruise will get its debut at Disneyland Park. This will include the closure of some attractions and the cancellation of the night's fireworks display. But keep your eyes open as you never know who you might see in the park during the day.
Among ride closures, we can expect to see The Jungle Cruise ride closing from 4:30 PM to 7:00 PM on July 24. Walt Disney's Enchanted Tiki Room and Tropical Hideaway will also be closed.
In Fantasyland, The Casey Jr. Circus Train, Storybook Land Canal Boats, and Disneyland railroad station will all close at 8:00 PM. At that time, the audio will be muted on "It's a Small World". Mickey's Toontown will have restricted access starting at 6:00 PM.
On July 25 and 26, Tarzan's Treehouse will be closed and Tropical Imports will have reduced seating. Pirates of the Caribbean will have reduced queue space available.
Movie premieres at Disneyland are always an exciting event for Disneyland Guests, giving them an opportunity to see actors and the private event that will usher in the new movie.
Don't forget to go see Jungle Cruise in theaters near you!